Being referred to as the "Bridge of Tomorrow", CCLEX with its 8.5km bridge linking Cebu City and Cordova will be the longest bridge-way structure in the country, once completed.  The project would not only reduce traffic congestion in mainland Cebu; it will also propel trade activities and produce enormous economic opportunities within Visayas region.
As the project is approaching its final stage of bridgeworks, Freyssinet International Manila Inc. (FIMI) through the projects Main Contractor Cebu Link Joint Venture (CLJV) is also gearing towards completion of its contracted works on which by this time, is in line with the target schedule of project opening by 1Q 2022.
FREYSSINET SCOPES ARE AS FOLLOWS:
Stay Cable & Post-tensioning Works – the team was able to complete the works for the installation of bridge stay cables and post-tensioning items for the signature main bridge and the approach structures. Approximately 962 tons of PT has been installed; 700 tons for the two (2) approaches combined and 262 tons for the main bridge structure to complete FIMI's post-tensioning works. For the stay cables, a total of 14 stay cables on each side of the two pylons, 56 units in total, has been installed also by FIMI site team. The remaining works are on the fitted propriety dampers on the Freyssinet stays to prevent possible instability that can be brought about by combined action of traffic load, wind load and rain on the structure.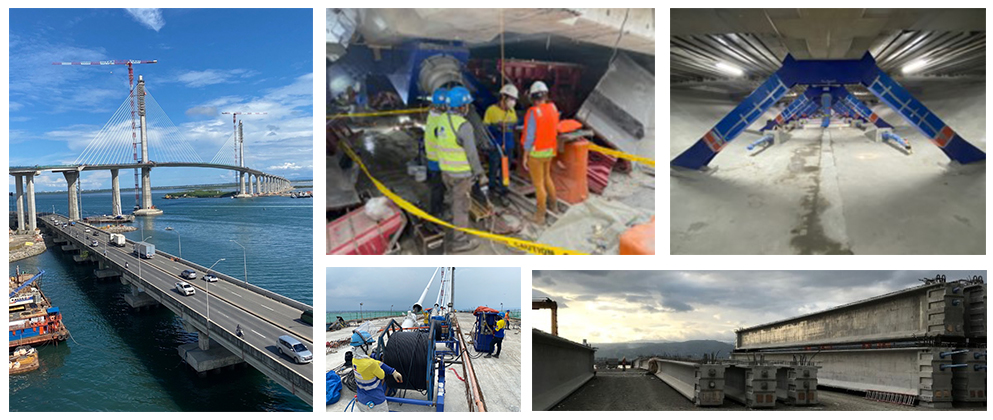 Lowering of Form Traveler – COMPLETED.   Through our integrated lifting and handling solution, FIMI site operations team successfully carried out lowering 4 units of Form Traveler, weighing 250 tons each that was used for the deck construction. Through Hebetec's cable lifting jacks, each unit was lowered from an elevation of approximately 60 meters until reaching the barge.