CIPEC EXPANSION JOINTS
---
CIPEC expansion joints are designed to enable continuous traffic between two structures, accommodating structural movements due to creep, shrinkage effects, temperature variations and deformations under live load. They are suitable for all reinforced concrete, prestressed concrete, composite and steel structures, and particularly for bridge decks. CIPEC expansion joints are also designed to allow sufficient vertical movement so that bearings can be replaced without needing to disassemble the expansion joint. They enable drainage of runoff water and they are designed to minimize traffic noise.
PRODUCT RANGE
The CIPEC range of expansion joints offers a suitable solution for all movements from 30 to 1000 mm, and regardless of the structure on which they are to be fitted, and installation and operating conditions. The range includes:
small movement expansion joints (JEP, WR and WOSd);
medium movement expansion joints (Wd);
large movement expansion joints (WP).
It also includes car park joints in the CIMAC family.
| Movements | M<50 | 50≤M≤60 | 60≤M≤80 | 80≤M≤110 | 110≤M≤160 | 160≤M≤230 | 230≤M≤250 | M >250 |
| --- | --- | --- | --- | --- | --- | --- | --- | --- |
| WP | – | – | – | – | – | – | WP250 | WP* |
| Wd | – | Wd60 | Wd80 | Wd110 | Wd160 | Wd230 | – | – |
| WOSd | – | WOSd50 | WOSd75 | WOSd100 | – | – | – | – |
| WR | – | WR50 | WR75 | – | – | – | – | – |
| JEP | JEP3 | JEP5 | JEP8 | – | – | – | – | – |
DESIGN
Road expansion joints resist sustained loads due to continuously increasing road traffic. They are also directly exposed to pollution, oil and dissolved road deicing salt.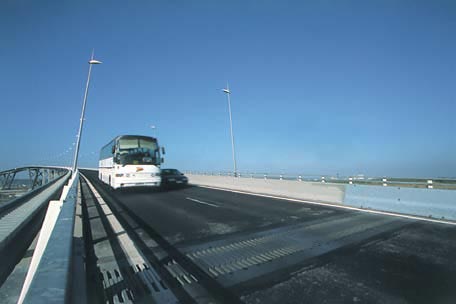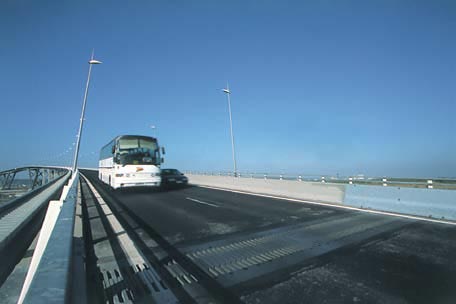 The design of CIPEC road expansion joints and the nature of the materials used are optimized to resist all these aggressions, and they have a remark-ably long life. The main elements of CIPEC expansion joints are:
metallic elements,
an anchor system,
a continuous elastomer sealing section.
Metallic elements
Metallic elements may be made either from treated aluminum or hard drawn steel, and their surface area exposed to traffic is limited, thus limiting the loads applied to them.
Metallic elements of joints with medium and large movements have triangular or straight teeth that aid the user during installation and mitigate road noise, regardless of the joint opening distance.
These teeth may also be installed on skew bridges without introducing any stress on the expansion joints.
Anchor systems
CIPEC road expansion joints use one of the following two systems to anchor metallic elements to the structures to be equipped, depending on the model:
either prestressed attachments,
or a resin mortar bonding to the support (for the JEP) joint.
The elastomer section
A continuous elastomer section over the entire length of the road surface expansion joint is inserted between metallic elements. It prevents the penetration of foreign bodies and provides waterproofing against runoff water.
This section is installed underneath the surface layer and does not resist traffic loads.
Upstands of the elastomer section at the ends of the joint line also contribute to the leak tightness of the joint. A drain installed on the upstream side of the joint line also helps by collecting any water that infiltrates through the road surface layer.
QUALITY OF CIPEC EXPANSION JOINTS
A badly designed expansion joint, or simply a wrong choice of an expansion joint, can cause severe and irreversible disorders for itself and for the structures on which it is installed. CIPEC joints are designed for quality, and are very much appreciated for the benefits that they provide as has been demonstrated on many structural projects for more than 30 years:
excellent traffic comfort;
long life;
low noise;
high resistance to corrosion;
no horizontal reaction. Vertical movements of structures are possible (for jacking, etc.) without the need to disassemble the joint;
protection of surfaces under the joint;
good resistance to heavy duty and frequent traffic loads;
adaptability to all surface structure types;
easy installation on new or old structures;
low servicing and maintenance